Handy Food Canisters
--Blog post written by Bob
By now, I'm sure the readers of this blog think that I am an organization freak and they may be correct but I can't help it.

In the main salon of s/v Rainy Days, there has always been a small shelf behind the settee on each side of the boat.

This small shelf has a relatively deep edge (called a fid) that helps contain the contents of the shelf but it has always been a collection point for all kinds of assorted things.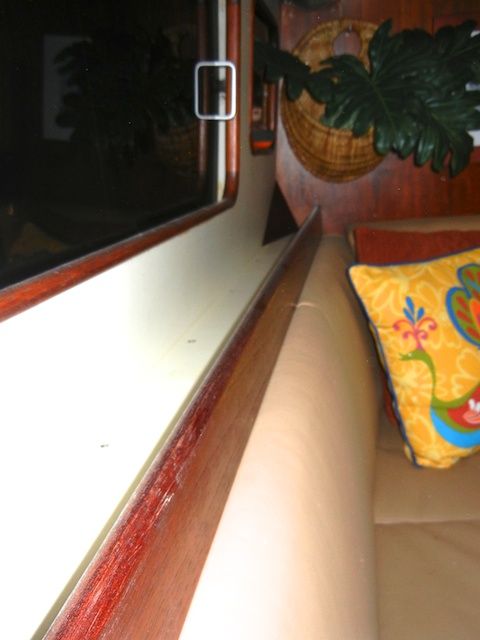 Shelf Outboard of Port Settee
A long time ago, I found a couple 1-quart containers that fit perfectly on this shelf.
They are made by Click-Clack and it makes that kind of noise when they are closed.
The container seals very well and keeps moisture out of the container's contents.
Also, the bottoms of the containers are clear—so you can see into them.
Click-Clack 1-quart Container Full of Candy
With some measurements, it became clear that 12 containers would fit on each shelf.
Without any definite ideas of what would be put in them, I ordered enough to fill both shelves, a total of 24 containers (at a cost of about $8 each) from Neatly Smart.
Shelf Outboard of Settee Full of Canisters, 12 Each Side
So far, we have filled about 5 or 6 of them with packets of Starbucks VIA, packets of Splenda, dry coffee creamer, candies, and Nature Valley crunchy granola bars.
I'm sure this will serve many very useful purposes during our future journeys!
Thanks for following our blog!