Improvements in the Head
--Blog post written by Bob
Until now, we have been using a toilet paper holder in the head (what the bathroom on a boat is called) that is constructed from teak—it is pretty but … every time we use the shower, the toilet paper roll has to be removed or it gets all soggy wet.
Think about the builder of your house placing a toilet paper holder in the shower—this is what it was like on s/v
Rainy Days
.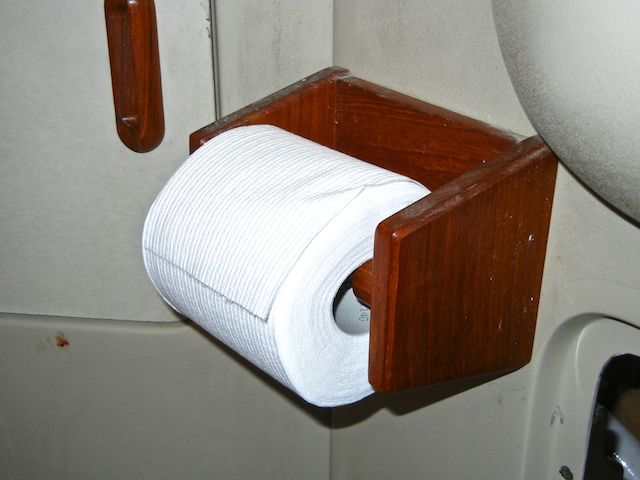 Old Toilet Paper Holder
I ran across Ocean Air's "
Dryroll"
at Bacon's in Annapolis—it provides a solution to this problem by completely protecting the roll of toilet paper from getting wet.
It is constructed from white plastic and cost about $30.
I decided to use the recessed mount where part of the toilet paper holder is recessed into the area in the cabinet door because it will take up less space.
(The size of the shower grate is about 28-1/2" x 16-1/2" and the shower area is a few inches larger than this in both directions, which is a pretty small shower area.)
Head with New Enclosed Toilet Paper Holder
This project was one of those that added a lot of convenience for very little cost.
Of course, this little project pointed out the need for better lighting in the head—so, it leads to another small project, adding a "LED strip light in the head."
In addition, while I was cleaning the round shower sump connection I realized that the fitting was severely corroded (after 30 years of service) and the plastic housing was cracked.

Searching the regular places for a replacement-in-kind turned up futile but I ran across a rectangular shower sump connection made by Perko (at West Marine in Tracy's Landing, MD)—it was all bronze and looked like it would last a lifetime.

The only problem was that it didn't exactly fit the space in the shower pan—so, I had to modify the fiberglass shower pan to fit the new rectangular shower sump connection.

This turned into another project that occupied about a week of evenings and $50 in parts.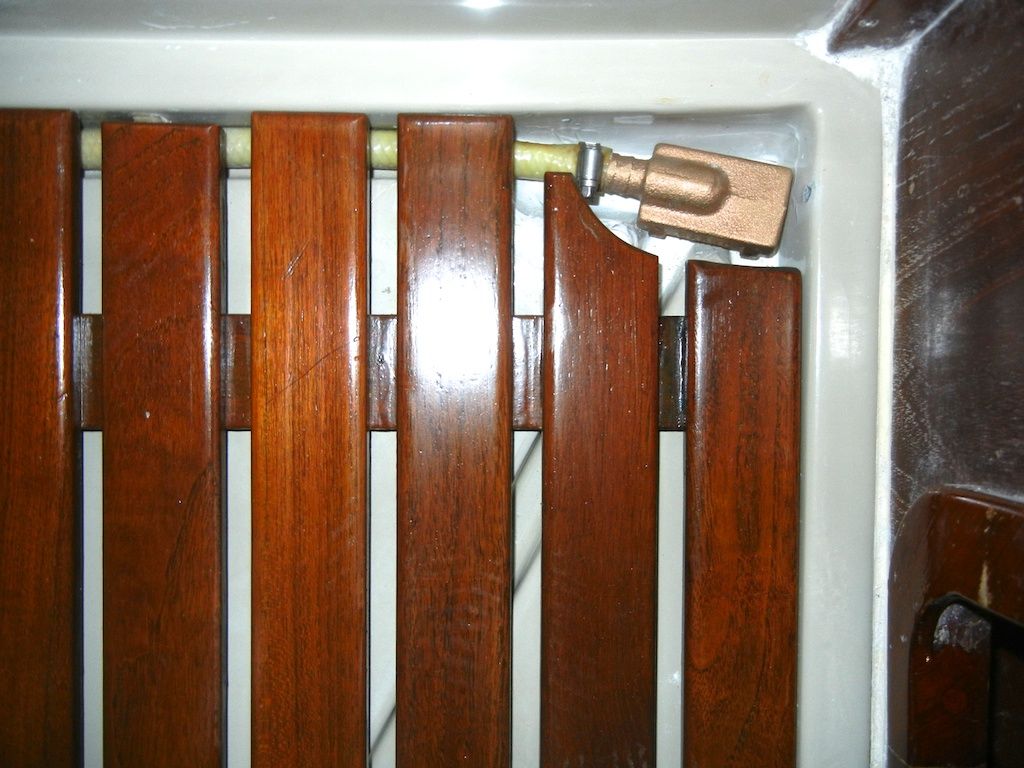 New bronze shower sump connection (upper right)
I changed all the hoses in the head and installed a new (lockable) y-valve—this is a requirement of the Coast Guard.
Not only is it a requirement about no discharge allowed in coastal waters but the y-valve must be able to be locked in position.
The new y-valve was made by Jabsco.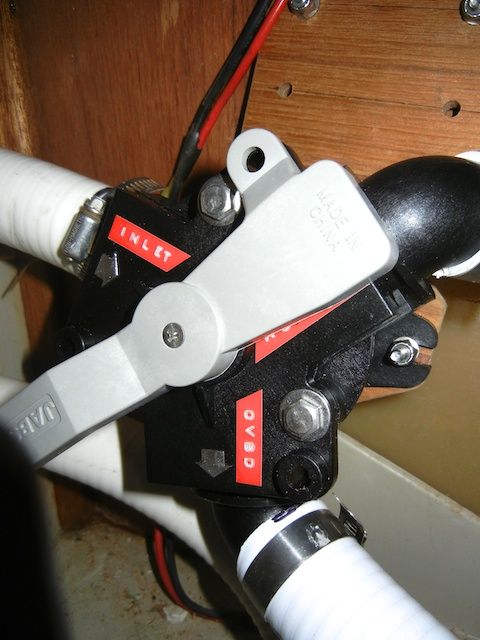 New Lockable Y-valve made by Jabsco
This collection of small jobs lasted two weekends.
I really hate plumbing!
Thanks for following our blog!