Ten Shakedown Cruise Solutions
--Blogpost written by Bob
During our month-long sailing trip on the Chesapeake Bay this past summer we identified ten problems that needed to be solved before we start cruising next year. While some sound a little mundane, maybe even simple, they are things we didn't think about before our shakedown cruise.
#1: We did not bring along a water hose for the first half of our trip and without a water hose, we could only fill up water tanks at a fuel dock--not in a slip.
We purchased a collapsible water hose and plan to keep it on board at all times.
It takes up a lot less space than a conventional garden hose. We have also
implemented some water conservation measures that will help in this area.
#2: WiFi signals from marinas were rarely suitable for blog posting unless we were in a boater's lounge or in the ship's store.
Our new WiFi booster (thick antenna on the stern) will allow much better
WiFi signal availability while on board.
#3: A couple times our handheld VHF with it's limited power was not suitable for contacting marinas.
This ICOM waterproof helm-mounted VHF gives us 25 watts of power right in the cockpit
and provides complete redundancy in our onboard communications.
#4: Charging our laptops at anchor or on moorings was a problem for us--we only had a very small 50-watt inverter.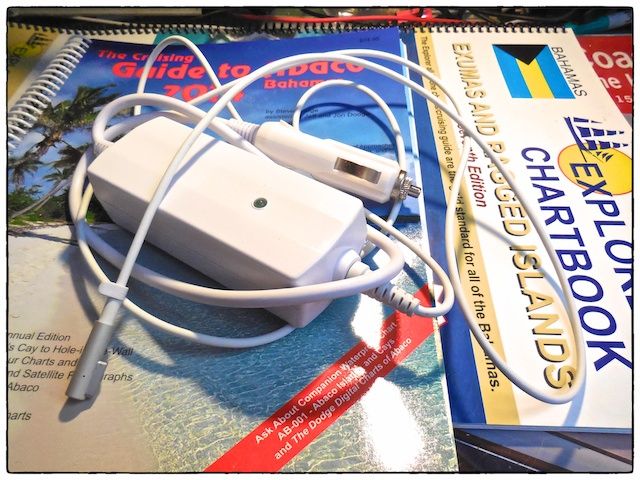 We purchased this 12-volt charger for our laptops on Amazon. We also installed a 600-watt
GoPower inverter for charging things that didn't have 12-volt chargers readily available.
#5: Our rowing dinghy limited how much local exploring we could do.
A rigid hull inflatable dinghy with a 10 HP outboard will solve this problem.
We plan to purchase it early next year.
#6: We used 5 gallons of drinking water per week for two people, not using water from tanks. We can only carry about 15 gallons of drinking water in three jerry jugs.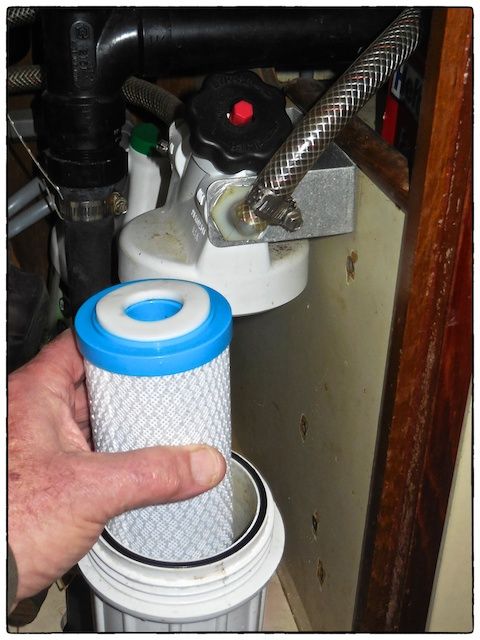 We're trying to improve the quality of the water that comes from our tanks (by using a better filter)
so that we don't have to rely on the water in just three jerry jugs for drinking water.
#7: Every three days, we filled a (tall kitchen size) garbage bag full of waste.
After hearing from other cruisers, it is important to get rid of all packaging at the
time of purchase, not only to save the storage volume taken up by trash but to
prevent cockroaches from coming aboard the in the cardboard containers.
#8: Our quarter berth was a complete mess the entire trip--it was a collection point for things that didn't have another home.
We made storage bags from IKEA plastic bags for use in our quarter berth
to prevent the clutter from overtaking us.
#9: Cat hair had to be cleaned up daily and we couldn't find a 12-volt vacuum cleaner that had enough suction.
Our solution involves getting our cats closely clipped once a year and the
portable vacuum cleaner (made by Eureka) that runs on our inverter.
#10: Our fridge frosted up severely by the third week (too many openings)--we couldn't remove ice cube trays to make sundowners.
We decided the best course of action was to turn off the fridge overnight once every two
weeks. We will put this on our calendar on our iPad with a reminder every 2 weeks,
Summary
We will be taking another shakedown cruise to the southern Chesapeake Bay this summer. We'll see how much these solutions help and we may discover new problems that need solutions.
During our month-long sailing trip, we had a starter failure and we will address this by taking a spare starter with us on our trip. We will be carrying a spare for everything that is connected by a v-belt.


Thanks for following our blog!