The Romance of Living Aboard
--Blogpost written by Bob
I lived aboard s/v Rainy Days for 10 years after I went through a divorce. A divorce turns your life upside down. My boat proved to be a sanctuary for me in many ways. No matter what I had gone through on any given day, I could be assured of the peaceful cacoon it provided for me at the end of each day.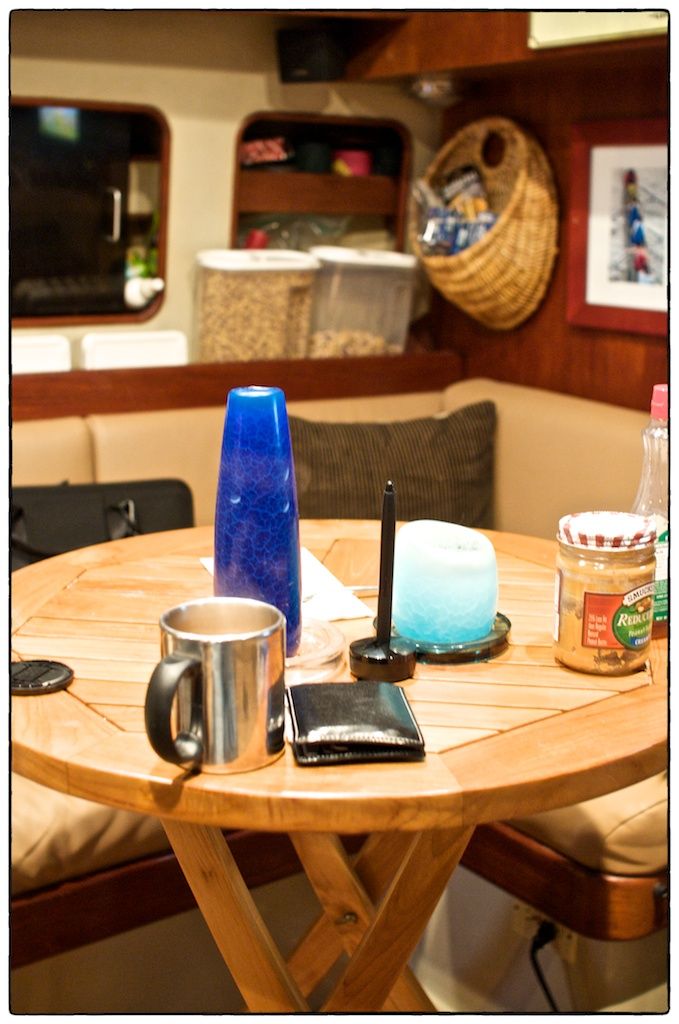 At one point I replaced the original dining table with a round teak bistro table--it made
the cabin very cozy. Later, I reinstalled the original dining table with folding leaves.
While I lived aboard I tackled many boat projects that enhanced my liveaboard experience. One of the biggest projects was installing central air conditioning to make the hot and humid Maryland summers easier to tolerate. Another big improvement was the installation of the propane fireplace--combined with oil-filled radiators, it made life more comfortable in the winter. Refrigeration allowed additional lifestyle improvement. (When I first moved aboard, I had to get ice for the ice box every other day.) The list of upgrades I made while living aboard goes on from window upgrades to a hard dodger and bimini and to a complete cockpit enclosure for cooler weather.


When living aboard at Annapolis Landing Marina (in Annapolis, Maryland) I knew every one of my boat neighbors by their first name, by their boat name (rather than their last name), and by their character--not only on my dock but the adjacent docks as well. We lived through hurricanes and snow storms together. The marina exposed me to a community of liveaboard sailors, several of whom have become life-long friends.
The only inconvenience involved with living aboard during Hurricane Isabel was the extremely
high tides and the fact that the dock was several feet underwater. The white rectangular in the
lower center of this image is my neighbor's dock box that was a foot or two underwater.
Most of the pilings were submerged too.
This is A Dock during near white out conditions. You might think that heavy snowstorms would make a
boat intolerably cold but that wasn't a problem with the balsa-cored hull and deck of
s/v Rainy Days
(with its added insulating abilities). In the winter, the sole (or floor) was always cold
but the use of throw rugs and heavy socks proved to be an acceptable remedy.


Living on a boat means living in a small space. Rather than seeing this as a disadvantage, I always saw it as an advantage--it is easier to keep clean, to heat and cool, and to find my car keys. Cabin fever, particularly in the winter, was dealt with by participating in more "off the boat" activities, even going out to eat more often.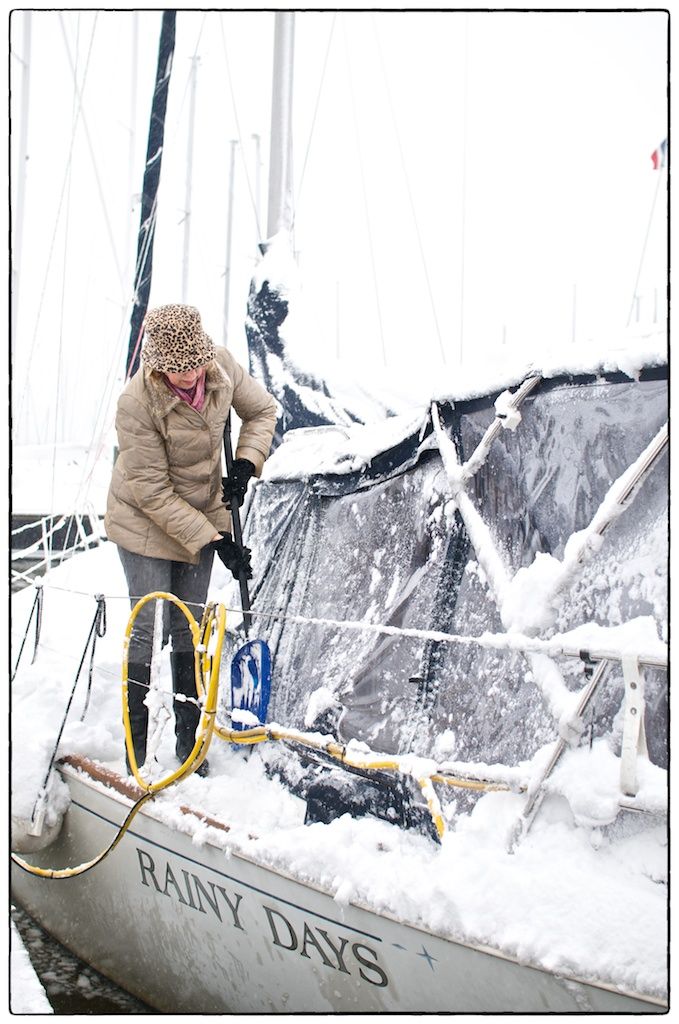 When we adopt the cruising lifestyle we won't have to deal with snow.

Even though we don't currently live aboard, every time I am at the boat I get that same feeling of a personal sanctuary. I'm looking forward to our living aboard during retirement and I hope that feeling never goes away.


Thanks for following our blog!