A Marina Stay-cation
--Blogpost written by Bob
Since we have a lot of renovation going on at our house prior to putting it up for sale, some problems with our refrigeration system on our boat, and a number of small boat projects in limbo, we decided to take our vacation time in our marina and go sailing when the weather was right. I'm looking forward to some leisurely sailing days, some days lounging by the pool, and completing a couple lingering boat projects.
Our master bathroom renovation was a complete gut job!
The new bathroom will be as big as a small bedroom.
Our refrigeration system has had a small leak for some time now and it has been gradually getting worse to the point that it now can't hold any refrigerant. Our SeaFrost Tradewinds model has an air-cooled 12-volt compressor. The system's piping contains a couple of threaded fittings and I believe these fittings are leaking. We have been using block ice for the past week while the unit is out of commission. We will try make a quick leak repair and then figure out what we are going to do with the 12 or 13 year old refrigeration system after this sailing season is over.
Our port water tank has finally failed to hold water. It was weld repaired two or three times in its 30-year life. I found four leaks in the tank--one of them is through the threaded inlet connection (which is not possible to weld repair). So, I have to order a new (Kracor) rotationally molded polyethylene tank. Kracor supplied the original tanks on most C&Cs.
The crack through the inlet connection of the water tank was the
final straw--I can't weld repair a crack through the threads.
We've had a hot and humid summer so far and our boat's on-the-small-side 12,500 Btu air conditioner has been working very hard and, at times, not keeping up with the demand. It is clear that we really need a 16,000 Btu unit for the summers and it would be nice to get a quieter unit at the same time. So, an air conditioner upgrade has been on my mind.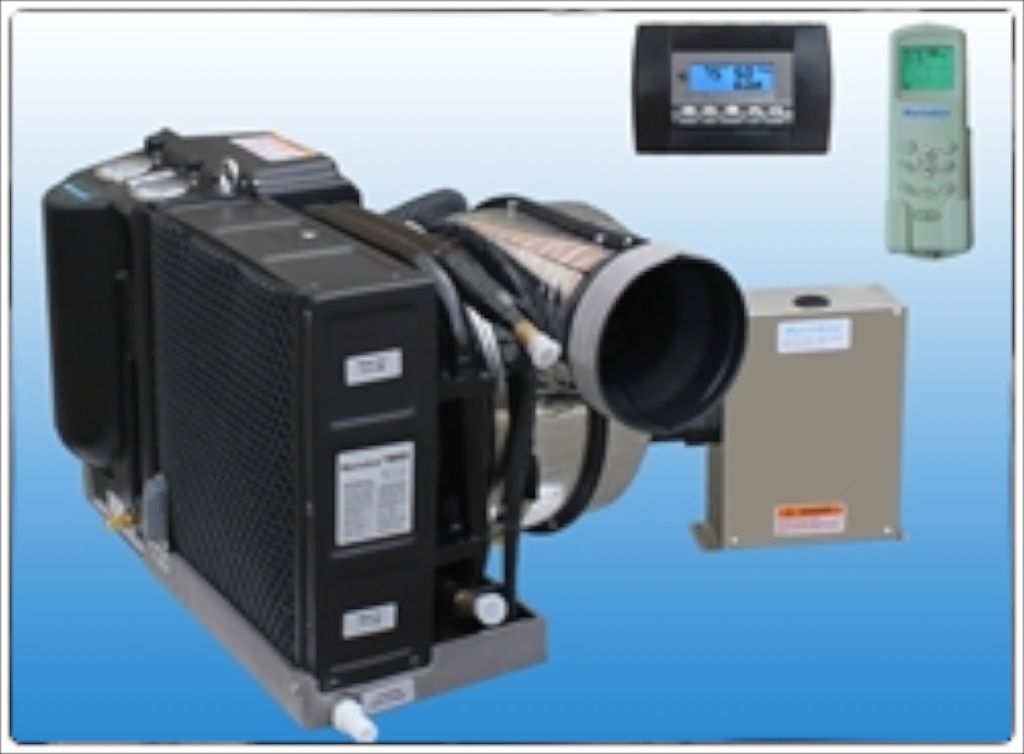 Since my existing Marine Air air conditioner has served me well, I expect to be
upgrading to the 16,000 Btu unit soon. I understand it is much quieter
than my old unit. Images are from Marine Air's website.
Fortunately, my seawater circulating system and the ductwork can remain the same with the upgraded unit. It is simply a matter of making the 16,000 Btu unit fit into the allotted space just forward of the head. More on this later…
We just got our dodger panels back from Annapolis Custom Yacht Canvas and they look great. The new windows are so clear that I didn't notice the panels were installed at first.
It almost looks like there is no window in place when looking forward!
Another project that is currently in the planning stage is a replacement swim ladder. I purchased teak steps from Thai Teak. My old swim ladder is bent and I would like it to have one more rung and an even 10-inch spacing between the rungs. Right now the spacing is between 13 and 14 inches. All this adds up to having a new swim ladder fabricated.
When cruising, the swim ladder is very important. The original swim ladder is
bent, the rungs hurt our bare feet, and I would like to add another rung (changing
the spacing) so that one of the new teak steps won't interfere with the stern toe rail.
You would think I would soon run out of things that need to be fixed...
Thanks for following our blog!