New Propane Tank for the Grill
--Blogpost written by Bob
We have a nice stainless steel grill made by Kuuma--it uses the small 1-lb propane cylinders that mount right on the grill. I estimated that we would use twenty 1-lb propane cylinders while cruising the Bahamas each year (about one per week). They are disposable--so we have to store them full until they are used and then store them empty until they are properly disposed. For cruising on a sailboat where storage space is precious, using these small disposable propane cylinders doesn't make a lot of sense.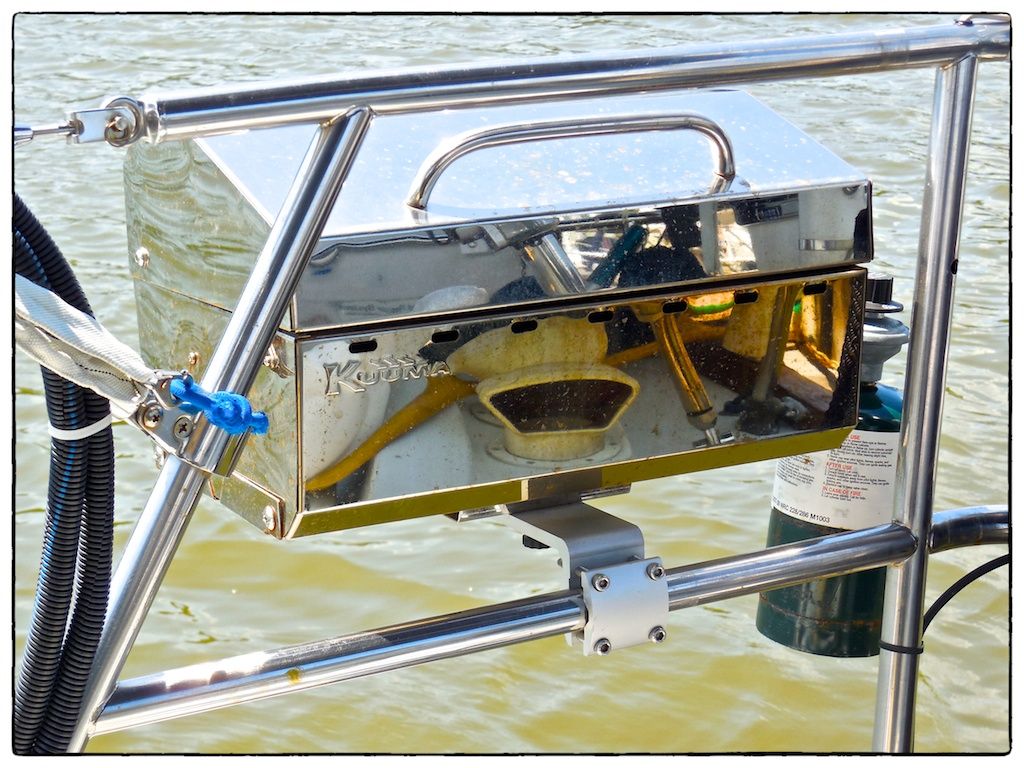 This Kuuma grill (#125) really works nicely for us. It is located perfectly
for access from the cockpit, lights easily, stays lit, and cleans up nicely. For
around the East Coast of the U.S. the attached disposable propane cylinders are fine.
We carry two 10-lb aluminum propane tanks in a propane locker under the helm seat--these are used for cooking on our stove and oven and infrequent heating using our propane fireplace. We would rather not plumb into these tanks for the grill for various reasons.
This past week each of our two cats have had infections which required us to give them
medications. It has been a trying week but they are both healing--so are we.
After researching alternatives, we came up with the idea of purchasing an adaptor hose that converts from the fitting on the grill (for the 1-lb cylinder mount) to a fitting for a conventional propane tank. Using an aluminum propane tank dedicated to the grill seemed to be a perfect solution--it could be stored on deck near the grill and could be refilled almost anywhere when needed and its takes minimal storage area, none below deck.
We purchased the adaptor hose from Defender for $42 including shipping. While we were waiting for it to arrive, we looked for a used 6-lb aluminum propane tank--we found one at Arundel Gas & Water Conditioning in Edgewater for $80, with a propane fill up and tax it was $89. So, for a total investment of under $135 we were all set with our new propane source for the grill.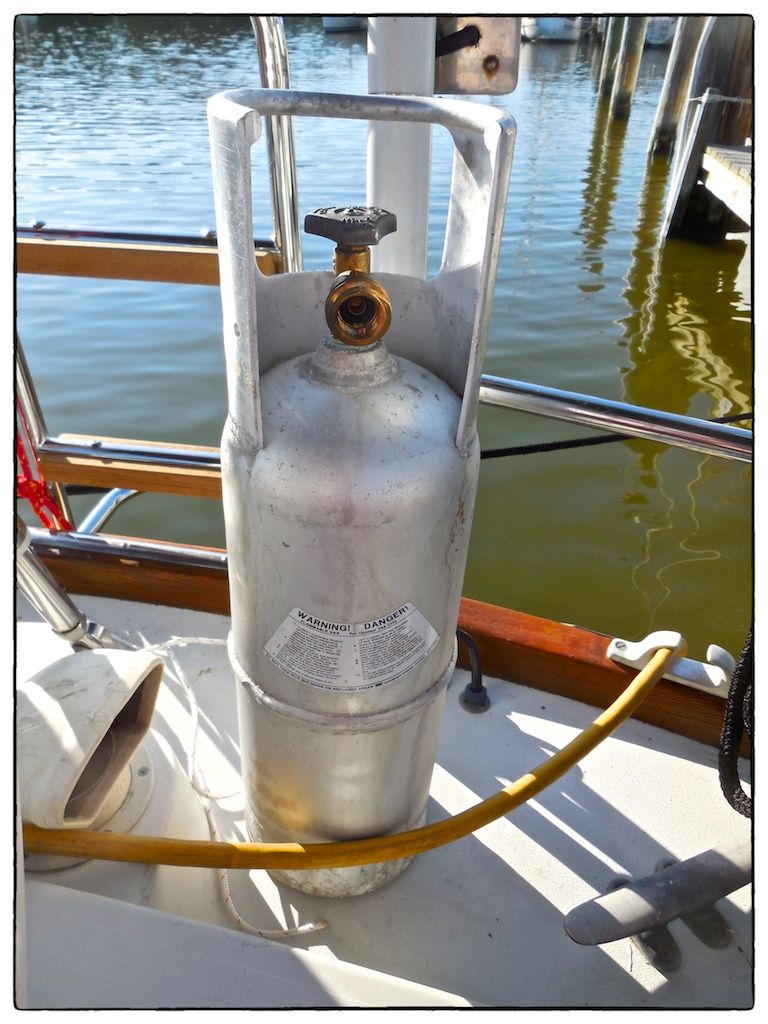 We found this used 6-lb propane tank for $80. Since it is aluminum,
you can't even tell it has been previously used.
The only problem remaining was how to mount the new 6-lb propane tank to the stern rail without creating an entanglement with dock lines, etc. There are some powder-coated aluminum mounting brackets available--they are complicated and somewhat expensive. I decided to use a piece of 3/8-inch thick white Starboard (about $25 from Maritime Plastics in Annapolis) and make a base with a bent bottom support and straps to hold the tank to the mount--the mount fastens to the stern rail on the starboard side using u-bolts.
Besides sewing the loops in the straps to mount the tank, Maggie intends to make a Sunbrella sleeve to fit over the propane hose to provide a protective covering to minimize chafe and UV damage to the hose. This small project cost less than $175 and took about two weeks (elapsed time) to complete.
The completed system is neat and tidy and works like a charm.
What more could one ask for?
I'm hoping our next blogpost will be about the replacement of our port water tank--It is scheduled to arrive on Monday. Our new central air conditioning unit should arrive by the end of next week--we can't wait!
Thanks for following our blog!