Boat Canvas
--Blogpost written by Bob
Sail covers, dodgers, and biminis, the colorful fabric accessories on a sailboat, are commonly referred to as "boat canvas." For the most part, polyester fabric has replaced canvas
(
a coarse unbleached cloth made from hemp, flax, cotton, or a similar natural yarn)
on modern sailboats but the term "boat canvas" remains.
After 40 years of owning sailboats on the Chesapeake Bay, I have learned a little about boat canvas. My experience as a sailor is quite different from that of a typical canvas shop owner who wants repeat business.

I have no business affiliation with any of the companies mentioned herein. I'm passing on some relevant facts (along with some of my opinions) to help others in selecting and maintaining boat canvas.

I do not run a canvas shop and I can't even sew. I even have
trouble threading a needle to whip a line. What qualifies
me to offer advice on boat canvas?
Thread


When boat canvas begins to fail, it usually first shows up at the seams. It pays to use the best thread available if you want your expensive boat canvas to last. TENERA thread (by W.L. Gore) will last at least twice as long as the best polyester thread.
Gore's TENERA thread is more expensive and slightly more difficult to use than polyester
thread.
Your canvas shop may charge you a little more for using it but, in the long
run, it is well worth the added cost! Ideally, you want the thread to outlast
the canvas. It is available in a wide variety of colors.
(Photo courtesy of W.L. Gore)
Zippers


Good heavy-duty marine zippers are made from plastic. Black plastic zippers last longer than any other color. While there are chemicals that can be added to plastic for UV resistance, the carbon black used as pigment in the black plastic zippers is superior at blocking UV degradation.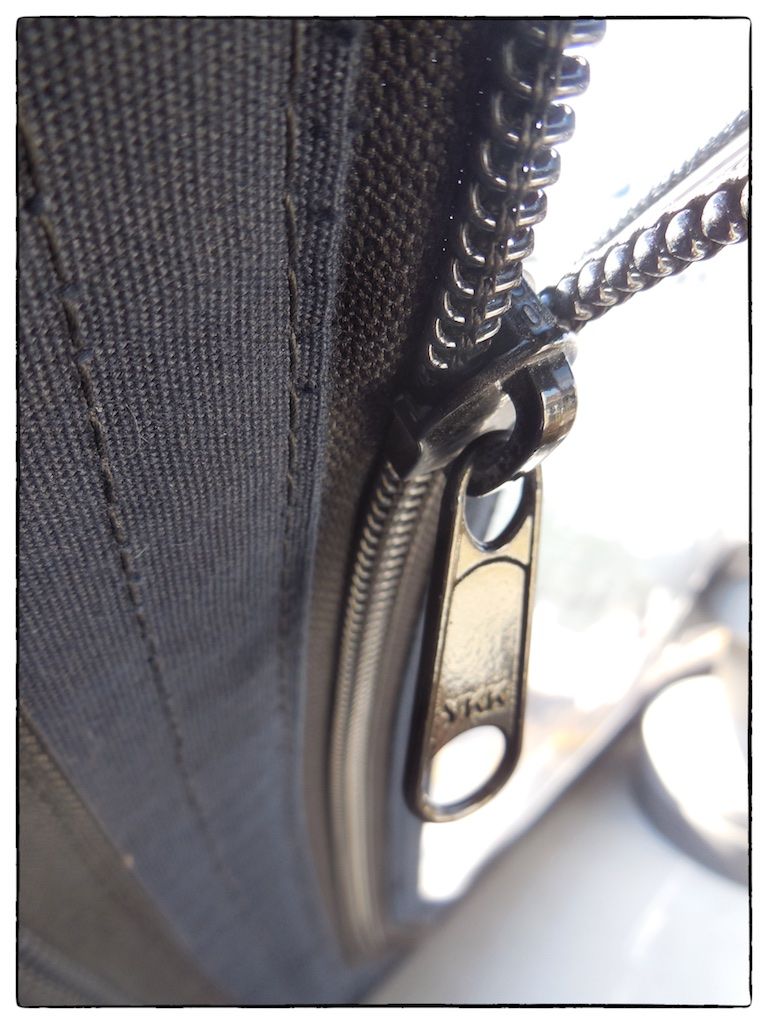 Black plastic zippers last longer than any other color because of the
carbon black's superior resistance to UV degradation.
The YKK on the zipper pull in the above photograph stands for Yoshida Kogyo Kabushikikaisha (translated Yoshida Industries Limited). This company, started in 1934, is the world's foremost zipper manufacturer, making about 90% of all zippers in over 206 facilities in 52 countries. In fact, they not only make the zippers, they also make the machines that make the zippers.
Their largest factory in Macon, Georgia makes over 7 million zippers per day. If you look closely at the zipper on your Wrangler jeans or almost any other clothing, you will likely see YKK on the zipper pull.
Using a good zipper lubricant, like Star Brite brand, at least
once
per year keeps zippers working smoothly.
Windows


I have used both 60-mil polycarbonate and 40-mil vinyl windows. The 60-mil polycarbonate looks great when it's new and holds a nice smooth curvature. However, when you remove the polycarbonate windows, they must be stored flat, like under a berth cushion. This makes polycarbonate windows less practical for most of us.
The service life of the window material is directly proportional to how much time spent in the sun. Having fabric covers over the windows when the boat is not in use prolongs their life. Removing the windows during the summer also prolongs their life. By taking moderate action to protect the windows from time in the sun, 40-mil vinyl windows will last 8 to 10 years on the Chesapeake Bay. I'm sure they will have a shorter life span in the tropics and a longer life span on the Great Lakes. It is practical to replace just the windows to extend the life of your boat canvas.
This photograph shows the clarity of recently replaced windows
in our
dodger.
AquaView
press polished
vinyl
is practically as clear as glass.
There are different brands and styles of vinyl window material. Our recent dodger window replacement used 40-mil AquaView pressed polished vinyl glass--it is manufactured by laminating two sheets of 20-mil vinyl in a press with perfect surfaces. The laminating process produces a product that is relatively firm and has greater clarity. (Stataglass LLC offers a very similar product called Crystal Clear 20/20.)
Lower quality dodgers will typically use extruded vinyl, commonly referred to as "roll glass" because it comes on a roll instead of in sheets. Roll glass is much softer and will have more distortion when looking through the windows.
The best cleaner to use on vinyl windows is Novus-brand.

By using a few simple techniques, along with NOVUS Plastic Clean & Shine Number 1, NOVUS Fine Scratch Remover Number 2 and NOVUS Heavy Scratch Remover Number 3, you can actually add life to plastic windows and keep them looking new. Most cleaning and polishing can be accomplished using NOVUS Number 1--use higher grades only for special requirements.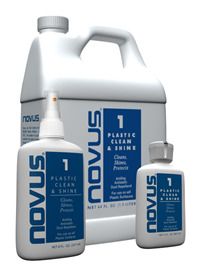 NOVUS Plastic Cleaner and Shine Number 1 will bring back the
clarity for most plastic windows in boat canvas. It is available in various sizes.
Fabric Material


SUNBRELLA owns the market for marine canvas. I have had canvas made from SUNBRELLA in gray, white, tan, and navy blue. I have never noticed a significant difference in the service life based on color but I think darker colors probably last a little longer. Usually the canvas color is selected to compliment the boat's hull color or to suit the owner's preference.
After spraying our 10-year old Bimini with 303 Fabric
Guard, rainwater beaded up nicely.
303 Fabric Guard really works well as a
water repellant on SUNBRELLA!
The water resistance of SUNBRELLA can be maintained using 303 Fabric Guard--it is recommended by the manufacturer of SUNBRELLA fabric. In my opinion, it should be sprayed on generously once per year after the first 3 years of service. Of course, the frames supporting the Sunbrella should have generous crowns with no flat areas--no amount of protectant will make up for poorly designed supporting frames.
The Importance of a Perfect Fit


If a dodger or bimini doesn't perfectly (and tightly) fit the supporting frames and the contour of the boat, it will leak rainwater and it won't last as long--fit up is not just an appearance issue. For this reason it is best to use a reputable canvas maker that is local and will use plastic templates to make your canvas work and then fine tune the fit up on your boat.
(In Annapolis, Annapolis Custom Yacht Canvas is one of the best canvas shops in our area--their boat canvas has lasted over 10 years on my boat.)
Exposed raw cut edges of fabric should not be seen anywhere on a well made dodger or bimini. The raw cut fabric edges should always be folded under and stitched using a second line of stitching--this looks like a hem on a pair of slacks or jeans and is called a flat-feld seam. The presence of or lack of exposed raw cut edges is a good way of judging the quality of boat canvas.
Summary


I hope a fellow sailor finds some value in this blogpost. Good boat canvas is expensive. Let's do everything we can to make it last!
Thanks for following our blog!