Inflatable Dinghy & Outboard - Part 2
--Blogpost written by Bob
We have been continually refining our thinking on this subject and have just purchased our new rigid hull inflatable (RIB) dinghy and outboard motor.
APEX A-10 Lite Aluminum RIB
Since Part 1 of this series was published back in May 2014 (almost 2 years ago) APEX has come out with an aluminum-hulled RIB--it is called A-10 Lite Aluminum. (At the current time, only one model is available in aluminum and quantities produced are limited--Fawcett's only had one available in inventory.)
The rigid portion of the hull is constructed from 1/8-inch thick marine-grade aluminum. The two air-filled chambers are contained by ORCA Fabric 215, the exterior layer being

Chlorosulfonated

Polyethylene (CSM) which is essentially Hypalon. (Hypalon was invented by DuPont but DuPont stopped production several years ago. ORCA is produced in Belgium.)

This image is the A-10 Lite with the fiberglass hull--ours
is nearly identical but with an aluminum hull.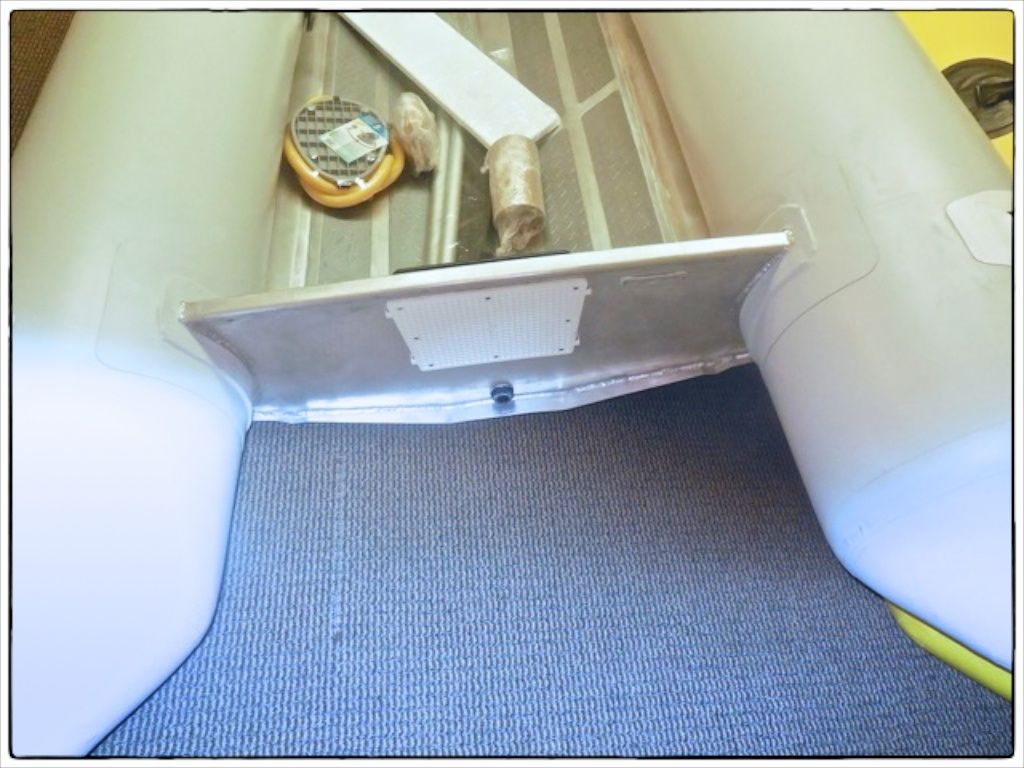 We liked the heavy (1/2-inch thick) aluminum transom
and the heavy aluminum lugs for lifting and towing.
Maggie and I could lift and maneuver the aluminum
RIB pretty easily in Fawcett's showroom.
Yamaha 9.9 HP 4-stroke Outboard
While we originally considered a 8 HP Yamaha, it weighs the same as the 9.9 HP model (approximately 90 pounds). So, we selected the recommended 9.9 HP model--this will give us lots of power and range to get to far off snorkeling spots in the Bahamas.

We believe that this is the most reliable engine for our new inflatable
dinghy. We purchased it as a dinghy-motor combination
f
rom Fawcett's in Annapolis.
Storing Dinghy on Fore Deck
Storing the dinghy on the fore deck for our trip on the ICW and crossing the gulf stream was an important criteria. Since we are not taking delivery of the dinghy until mid-June, our initial positive judgement on this was based solely on dimensions.
To confirm the ability to store on the fore deck, I made a template based on the dimensions I took of the outline of the dinghy. I made the template from red plastic table cloth material. I got a lot of strange looks as I was cutting the large template on the floor of the boater's lounge.
It may look a bit crazy but this template gives us a better idea of how
our new inflatable dinghy will fit on our fore deck fully inflated.
This is a view of the template in place looking toward the bow.
Summary
We were concerned that we would have to modify the dorade guard (shown at the bottom of the photograph above) but it appears that we don't have to redesign it after all. There are lots of accessories that we will be getting for our new dinghy, like an under-seat bag to hold life preservers and other necessities, a boarding ladder, a lifting sling, and motor harness--all to be discussed in the next blogpost in this series.
Thanks for following our blog!