My Favorite Pocket Knives
--Blogpost written by Bob
According to Wikipedia, "The earliest known pocket knives date to at least the early Iron Age.

A pocketknife with a bone handle was found at the Hallstatt Culture type site in Austria, dating to around 600-500 BC."

Folding-blade knives dating back to the pre-Roman era have been found in Spain.
As a baby boomer, having a pocket knife was a sign of (manly) responsibility.
In the 1950's, most young boys, including myself, owned them as early as five or six years old.
I still have one or two old pocket knives from my childhood.
This old pocket knife (I believe) was handed down to me by my grandfather. It
has a rounded wooden handle and a blade that is about 2-1/2 inches long.
It is marked "Camillus Cutlery, Camillus NY". According to Wikipedia, the
Camillus Cutlery Company was one of the oldest knife manufacturers
in the United States and its roots date back to 1876. The company
produced millions of knives until it filed for bankruptcy in 2007.
Most pocket knives from the 1950's had two blades, one shorter than the other.
Each blade had a shallow slot for opening using your fingernail. Black or
white plastic handles were very common. This knife's longest blade is
marked "Ranger" and "Prov. USA" (which I assume
means Providence, Rhode Island).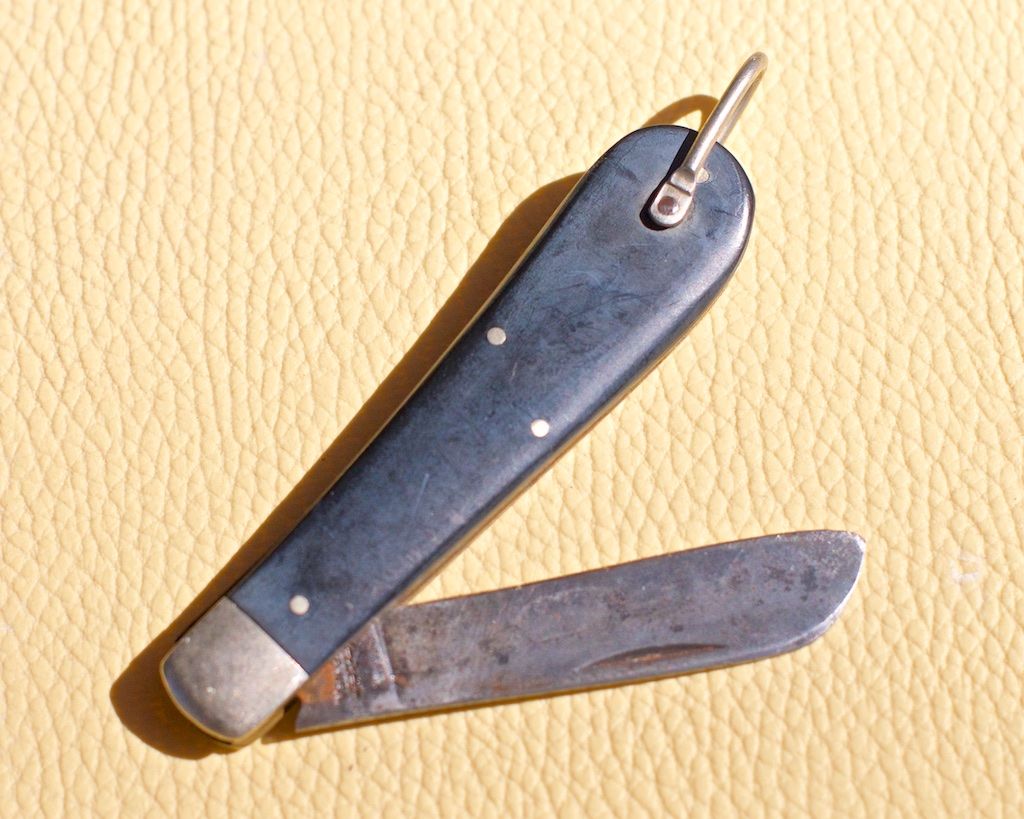 I purchased this black plastic handled pocket knife in my early twenties when
I started sailing. It has a single blade about 3 inches long. It was made
in the USA by Kabar and it is marked "1135". It is
described as a sailors rope jack knife.
This pocket knife is the thinnest of all my pocket knives with a total thickness of only
0.182 inches (about 3/16 of an inch). It has a single blade of about 2-1/2-inch
length and a fingernail file blade. It is marked "Western B381" and
"Boulder, Colorado". This pocket knife resides in my chart table.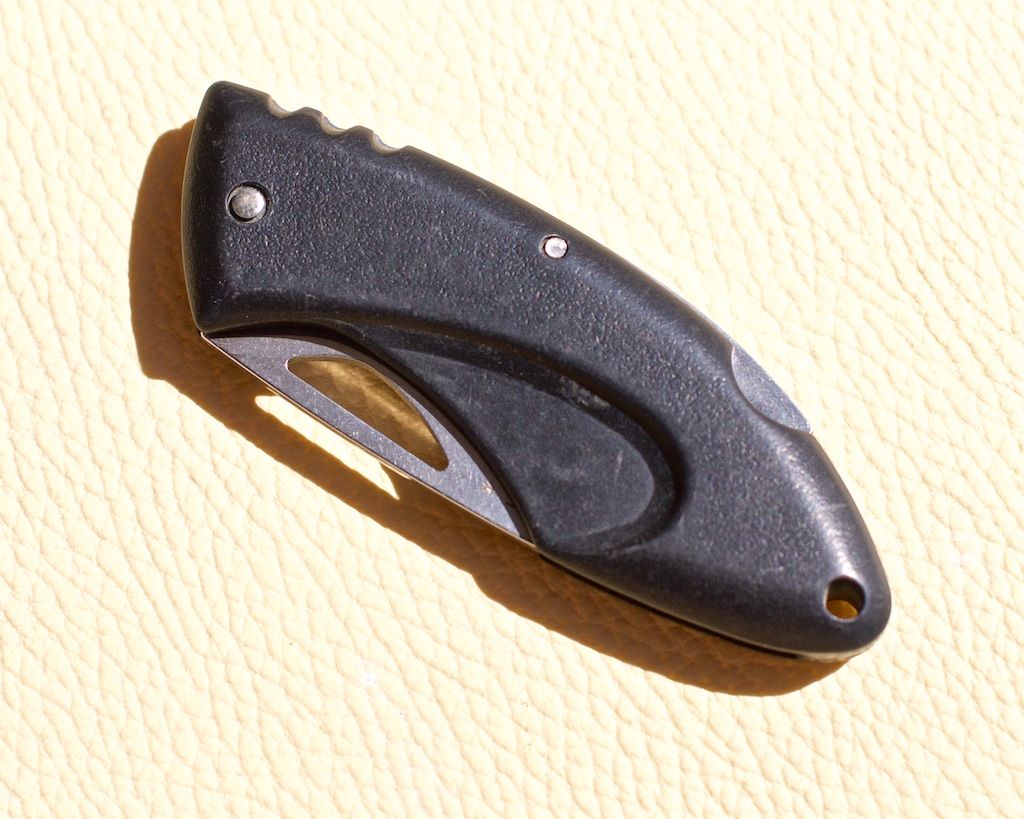 I purchased this Buck-brand knife (made in Idaho USA) around 1990.
Note the very large slot through the blade for opening. It is very
slim and easily fits in your pocket. The
blade is 2-3/4 inches long.
I have two Leatherman-brand pocket tools which broadly fall into the category of pocket knives.
The one on the left is a Leatherman WAVE and the one of the right is a Leatherman
SKELETAL CX. While these are extremely handy, I don't
carry either of them very often.
This SOG Woodline is the pocket knife I carry most frequently today.
It has a nicely sculptured hardwood handle and a thumb stud
for easy single-handled opening. It has only one blade. SOG
Specialty Knives and Tools are located in Lynnwood, WA.
This knife was made in China like so many
things we buy today.
My pocket knives have cost from as little as a dollar or two to as much as $100 and I've always had a fascination for pocket knives.

I realize this blogpost is not really about sailing or boat projects, but any sailor worth his salt has a pocket knife or two.
Thanks for following our blog!
Addendum - January 19, 2018
Since I originally wrote this blogpost, the is another pocket knife that I actually carry use most often during my sailing trips to the Bahamas.
My currently most carried and used pocket knife was
made by Gerber in Portland Oregon.
My new favorite is this Gerber and I appreciate the fact that it is American made. It has a rubber handle which seem very "grippy" and only costs about $50.
Also, I have recently found an excellent article by Reviews.com on their work to find the best pocket knife of 2018. They even provide links to purchase the pocket knives they recommend. While I have no experience with the pocket knives they considered, their methods are a lot more scientific than mine. It is worth a look!