Our Collapsible Cookware
--Blogpost written by Maggie
Our boat's galley has very limited storage so space-efficient cookware and kitchen tools are essential. In the search for necessary galley items we investigated collapsible cookware. Silicone is the key material in collapsible cookware. It is a synthetic elastomer (produced by Dow Corning and others) that can withstand temperatures to about 500 degrees F. Since silicone is chemically inert and has no odor or taste associated with it, it is ideal for cookware. It cannot be used on the stovetop but is perfect for baking. Silicone is very flexible and susceptible to abrasion. It can also be adversely effected by oil, gasoline, strong alkalis and acids.

The first items we replaced in our galley were our nested stainless steel bowls--replaced by a set of collapsible bowls made by Prepworks-brand by Progressive and sold by Amazon. They are made from a combination of rigid plastic and flexible silicone.
These round bowls store easily in the cupboards behind the settee and no
longer take up precious cookware space under the oven in the galley.
(The bottom two are collapsed while the top one is expanded.)
The second item we added to the galley was a set of dry measuring cups (made by the Squish Company and sold by Amazon) and flexible nested liquid measuring cups.
These colorful collapsible measuring cups by Squish store easily.
The set of four includes 1/4-cup, 1/3-cup, 1/2-cup and 1 cup.

One of our most unique finds was a collapsible drip coffee cone. We found it at Fawcett's Boat Supplies and the brand is GSI Outdoors. (For those readers not in the Annapolis area, it is also available from REI.) We had never found a good place for our rigid cone and it sat (annoyingly) on top of our refrigerator lid.
This collapsible drip coffee filter cone tucks nicely into our coffee supplies
drawer along with filters and our manual coffee grinder.

Bob ordered a collapsible collander from Amazon. It is a combination of flexible silicone sidewalls and stainless steel on the upper rim and the bottom.
At 10 inches in diameter it's big enough to handle
all of our pasta draining needs.
We already had silicone cake pans and a muffin pan which we brought to the boat from our house. I had never used them at our house, but they are a great addition to the galley as their flexibility allows them to store easily in a variety of places.
I can't wait to use these in a baking project! Because they are so flexible,
they have to be supported by a rigid cookie
sheet for removal from the oven.

Another item we brought from the house was a silicone steamer made by Chef'n and can be purchased here. It's flexibility makes it usable in all of our pans.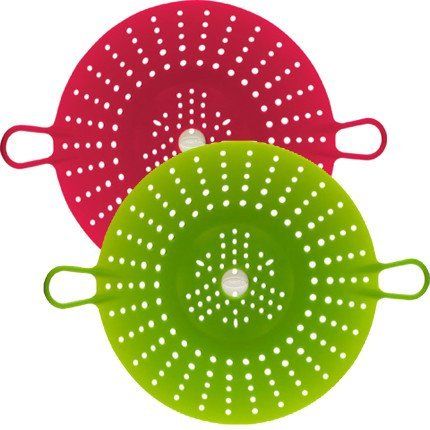 Flexible steamers come in both green and red--ours is red.
We store our flexible steamer inside our wok.
We will describe our nesting cookware in an upcoming blogpost--it's all about saving galley storage space!
Thanks for following our blog!