Hooking up AIS - Part 2
--Blogpost written by Bob
After a couple failed attempts to hook up AIS to our old chart plotter (mostly because of the unconventional existing network wiring) we decided to bite the bullet and get a new (bigger) chart plotter.

While getting a new chart plotter is certainly mission creep (in terms of the AIS project), it enabled several advantages in addition to AIS data.
New Chart Plotter
Even though this created significant mission creep for this project, our new Raymarine eS75 has a 7-inch diagonal screen and it has 63% more viewing area than (the 5-inch diagonal screen on) our old Raymarine A50D plus it has much better screen resolution.
I mounted the new chart plotter at a angle from the navigation pod
so that it is easily viewed head on from the helm.
Before purchasing, I made a cardboard template to make sure that the new unit would fit into the area at my helm allotted for the chart plotter.
This procedure of using a cardboard template prior to purchase/installation has always been useful for me and this was no exception.
On our old chart plotter there was a lot of network wiring that should have allowed our autopilot to follow a route on the chart plotter but it never worked (and I really didn't need this capability anyway).
So, when wiring our new chart plotter, I decided to keep it as simple as possible.
Our new chart plotter cost about $1,000 and included a C-Map chart bundle.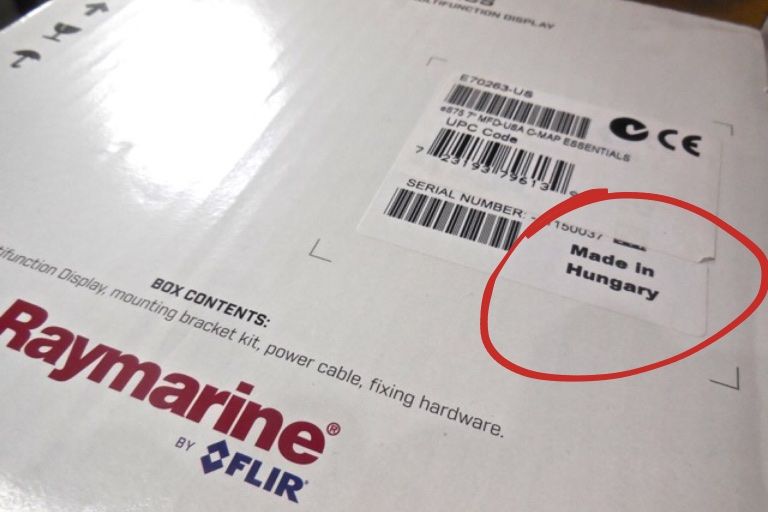 The fact that my new chart plotter is made in Hungary (and not in the USA or Canada)
is the only thing I don't like about it. I believe the decision on where have it
manufactured was based solely on maximizing Flir's profits,
We don't have a choice in the matter. (OK, rant over.)
Better Cartography for Our Trip
The new chart plotter uses wide maps that are stored on a MicroSD card--it is tiny!

Our new chart plotter has two slots for MicroSD cards.

I exchanged the C-map chart bundle that came with the plotter for more detailed C-Map charts of the east coast and EXPLORER (the gold standard) data for the Bahamas (NA 022).

The chart upgrade cost about $150 but this upgrade was not possible with our old chart plotter.
C-Map's electronic chart NA-022 includes all of
t
he east
coast data as well as EXPLORER data for the Bahamas.
Interface with iPad
Most new chart plotters have means of interfacing with a iPad via Bluetooth and our new Raymarine chart plotter is no exception.

I have downloaded the free app onto my iPad but haven't used it yet.
AIS Display
All that was necessary to hook up the AIS with the new chart plotter was a simple (but special) cable sold by Raymarine ($30).
With our new chart plotter, AIS capability required only one simple cable
from our ICOM AIS receiver to the NMEA 0183 port on the chart plotter.

This is an AIS image of an area around our current marina in eastern Baltimore Harbor.
The triangular shapes in the middle of this image are the AIS targets.
Summary
While this project (hooking up AIS) has been somewhat of an adventure, we are finally able to receive AIS data which is of primary benefit while crossing the gulf stream and long inter-island passages in the Bahamas.

It will help us stay out of the path of large cruise ships and container ships!
Again, I want to acknowledge the help of Fred Street, marine electronics guru. This project could not have been completed without his help!
Thanks for following our blog!
Addendum - June 12
The "own boat" icon was more like a battleship than a sailboat when I first used the chart
plotter. It took a while but I finally figured out that I could follow Home > Chart > Menu > Presentation > Overlays > Boat size > Small.
Also, I couldn't setup the chart plotter to "course up" orientation (which I use mostly when cruising) until I figured out the the chart sync had to be turned off in order for this orientation to work. To turn it off I proceeded to Menu > Presentation > View & Motion > Chart Sync > Off.
Thanks to Google and the Raymarine forum!