Why the Crazy Clip Art?
--Blogpost written by Bob
If you have been following our blog, you probably noticed my frequent use of clip art, particularly of funny looking old men.

I purchase the clip art images from Vitality Imagery Ltd (for $7.95 each for a license as a one-time web use).

Most of the clip art I use was drawn by the very talented David Cox (and others).

Usually a man in a clip art image is intended to represent me.
It is a way of poking fun at myself.
Typically, an image of a man is intended to represent me--it's always a far-from-perfect image.
I guess that's the way I see myself.
I didn't always see myself in that imperfect way--only
as I've gotten older.
(I noticed recently that the skin around my neck sags--yes, it sags!
I don't even know when that all started.)
The clip art is a way of poking fun at myself.
For the most part, I've been very kind to Maggie in the way I represent her In this blog (usually in photographs).
There is one blogpost where I poked fun at her too and used mermaid clip art to represent her--she didn't appreciate being represented by a "plump" mermaid in our blogpost entitled Sometimes I have My Doubts.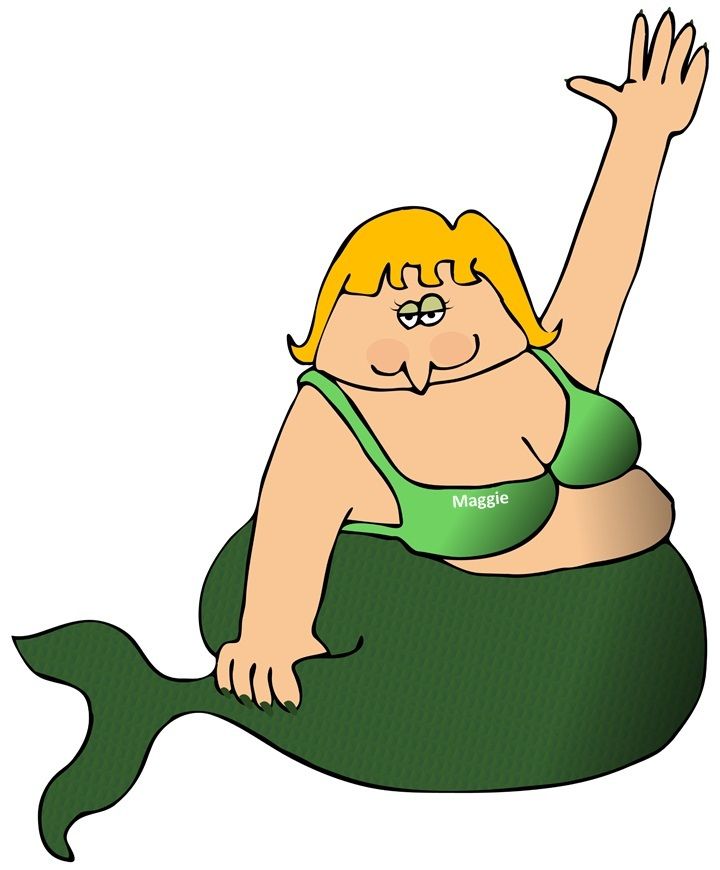 Maggie didn't appreciate being portrayed as a plump mermaid!
I sometimes modify the clip art to suit the topic of our blogpost.
I modify it by importing the clip art as a photo into SketchTime on my iPad.
I then draw the modification (using The Joy Factory's DaVinci stylus) over the original image.
A good example of my modification was in our recent blogpost on our new Firefly Oasis batteries.

I lugged these 75-pound batteries onto position on our boat and I wanted
to convey as hard it was by using clip art. I wanted to use clip art
of a man carrying a battery but I had to use the
clip art I could find and modify it.

This was the closest clip art I could find--a man carrying
a propane tank. So, I changed the propane tank to a battery.
Our blog is one of the few sailing blogs that regularly use clip art--
I hope you find it entertaining.
(By the way, most of the photographs used in our blog were taken by me.)
Next up will be an update on our new (aluminum) rigid hulled inflatable dinghy--we have taken delivery this week!
Thanks for following our blog!