Repair of Toe Rail Section at Bow
--Blogpost written by Bob
For many years, we had a vertical split in our boat's teak toe rail on the starboard bow.

Over the years, I filled the split with epoxy but it seemed to keep opening up.

A month ago, while we had our boat at the boatyard having our windlass installed, I requested that they replace the forward section of teak toe rail.

This blogpost is a short photo essay of the replacement performed by Hartge's Yacht Yard.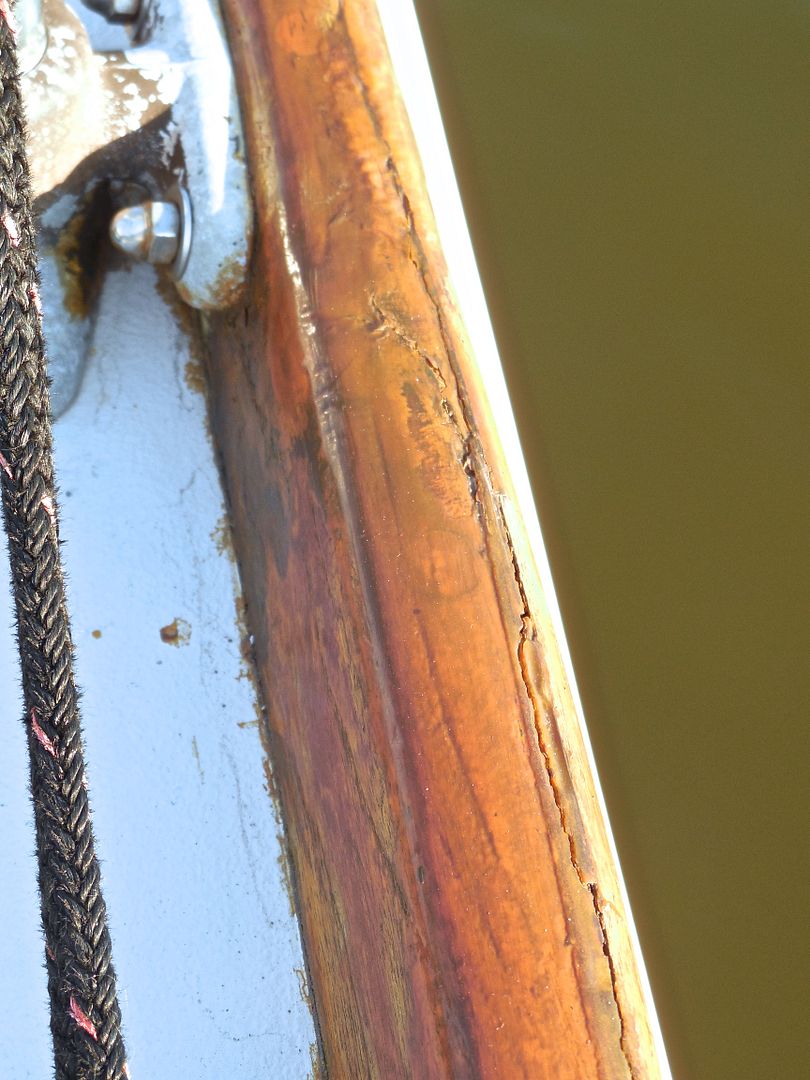 If you look closely at the old section of the toe rail you can see the cracks
in the toe rail. Over the years I tried to fill the cracks
with epoxy but they kept reappearing.
All the old bungs and bolts were removed first. Then a rough cut was made through
the toe rail to isolate the section to be replaced. Then the section to be
replaced was removed. This photo was taken before the
hull to deck joint was cleaned up.
This is a diagram of the hull-to-deck joint on a C&C Landfall 38. Unlike most
other C&C sailboats that have perforated aluminum toe rails, the
Landfall series have teak toe rails.
After the bad toe rail section was removed a long scarf was added to the existing
toe rail--this was for joining the new toe rail section.
A mating scarf was made on the new toe rail section and it was fastened to the
old section with some type of very durable adhesive.
All new bolts were installed and they were covered with teak bungs. This photo
was taken before the bungs were cut off even with the toe rail's surface.
The boatyard shaped the toe rail perfectly and I am currently applying the Cetol finish to match the old toe rail. I will append this blogpost when complete.
Thanks for following our blog!