Isle of Palms - 2016
Nov 21 thru Nov 23
--Blogpost written by Bob
This is our last week at Isle of Palms Marina.

As you may recall, we've been here for three weeks (will be a month by the time we leave) waiting for our time slot to have our engine replaced.

This was not a bad place to be stuck.
As we traveled south on the ICW we saw more and more brown pelicans. We saw the first ones in the vicinity of the Solomons in the Chesapeake, then more of them in Norfolk. Here in the Charleston SC area, there are many of them--even more of them than seagulls.
These two brown pelicans posed for me at Shem
Creek Park in Mount Pleasant. As a pelican
ages
beyond 3 or 4 years, they become
gray and white, rather than brown.
This brown pelican is waiting for handouts near a fish
cleaning table. Being larger and more aggressive,
they are clearly more dominant than seagulls.
November 21
The big event of the morning was emptying our composting toilet--our first changeout since October 5 when we left from Baltimore, 45 days ago.

I thought it was a good idea NOT to include photographs of this.

It really didn't take all morning.

During the process, one of our cats, Captain Jack, decided to take a stroll down the dock and visit another boat for a while.

We frantically searched for him for about a half hour before he finally reappeared on the dock casually walking toward our boat, like he didn't have a care in the world.
After his stroll on the dock, he was fast asleep,
continuing for the entire afternoon.
We rode our bikes to the beach and then to the
grocery store for a couple small things
that we forgot over the weekend.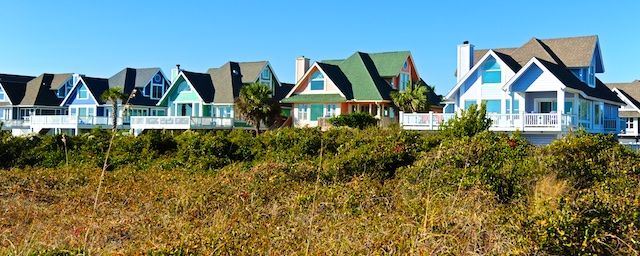 These oceanfront homes are part of
Sea Oats, between 41st
and 42nd Avenues.


November 22
We did some big-time cooking today--I made beef stew in the crock pot and Maggie made an apple pie. The boat smelled great all day!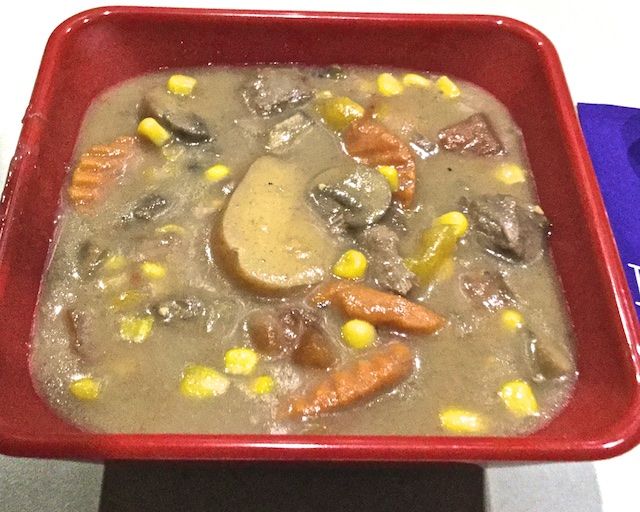 This is an image of a serving of the beef stew
that I made in the crock pot today.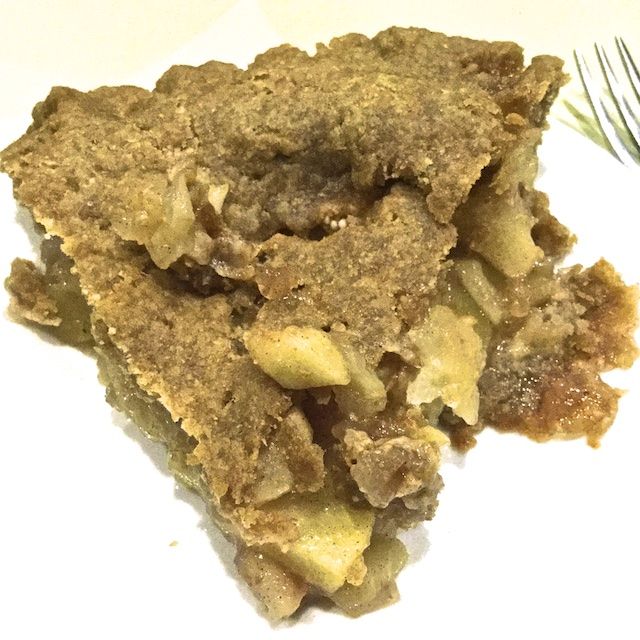 This is a serving of Maggie's apple pie made
with whole wheat flour and SPLENDA
artificial sweetener.
On the way down the ICW I did a lot of cooking on our onboard propane grill. I started using
grill pads
made from silicone (Silicone is rated at 500 degree F maximum temperature.)--it keeps the grate on the grill clean and keeps delicate meals (like fish) from falling down into the bottom of the grill. However, after a month of using them coming down the ICW, the silicone grill pads have been pretty much destroyed from the heat. So, I found TEFLON grill pads on
Amazon
and decided to give them a try. (TEFLON is rated at 600 degrees F.) This morning I cut down the TEFLON sheets to match the size of the grate on our grill (8-1/2" x 11"). Of course, I won't be able to use them until we are underway again in mid-January.
We made all the arrangements for towing next week (our BoatUS insurance will cover only half of it--it's a long story as to why) and for our rental car for the six weeks we will be staying in Folly Beach. (By the way, "folly" means thicket--we learned this on our boat tour of Charleston.)
We've both been kinda bummed out today. We've been dealing with some fraudulent use of Maggie's debit card ($1,000), the extra towing cost ($750), and the whole situation of dealing with another place to live while our boat is out of the water being re-powered. I keep thinking about the pirates that were caught and brought back to Charleston to be hanged and buried face down in the mud bank. Superstition has it that their souls would move in the wrong direction.
Today I actually started planning our trip down the ICW after we are re-powered. Of course, the schedule on the engine installation is flexible at this point but I can always just change the dates in the plan. We expect to be in St. Augustine during the last couple days of January.
Summary
We are down to four days left here at Isle of Palms Marina until we get towed to Rockville SC for our re-powering. The boat traffic down the ICW has definitely slowed down. At one time we were ahead of the southbound boats--now we are going to be way behind them.
Thanks for following our blog!