Isle of Palms - 2016
Nov 24 and Nov 25
--Blogpost written by Bob
Yes, we are still here in Isle of Palms waiting to be towed to Marine Propulsions in Rockville SC, about 40 miles away--our date with TowBoatUS is Monday, November 28, and we are anxious to get our re-powering underway. Of course, after Monday it will be another 4 to 6 weeks before we can resume our trip south.
November 24 (Thanksgiving Day)
Growing up in rural southeastern Pennsylvania, my Thanksgiving days were always spent small game hunting with my Dad.

Besides the hunting, it was a real bonding time for me and my Dad.

He taught me responsibility with firearms and a respect for the wildlife we hunted.

Occasionally, we would take a break while hunting and eat apples my Dad brought with him in the pockets of his hunting jacket.

We would come home at the end of the day to Thanksgiving dinner, totally beat (and with cramps in our leg muscles) from stomping through briar patches to chase out rabbits and pheasants.

It wasn't until much later in my life that Thanksgiving became a day of relaxation and watching rivalry football games.

Today, as I sit in our sailboat's cockpit in the warm sun in Isle of Palms, South Carolina, I can barely recall the brisk chill in the air of those Thanksgiving days long ago in rural southeastern Pennsylvania.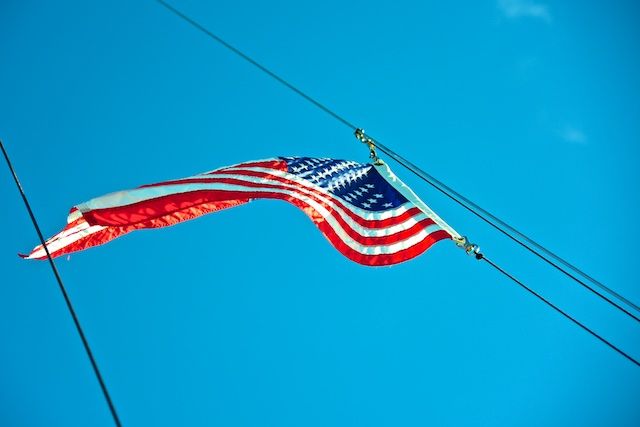 American Thanksgiving holiday is celebrated on the fourth
Thursday in November while Canadian Thanksgiving
is celebrated on the second Monday in
October.This flag is flying on the
stern of s/v Rainy Days.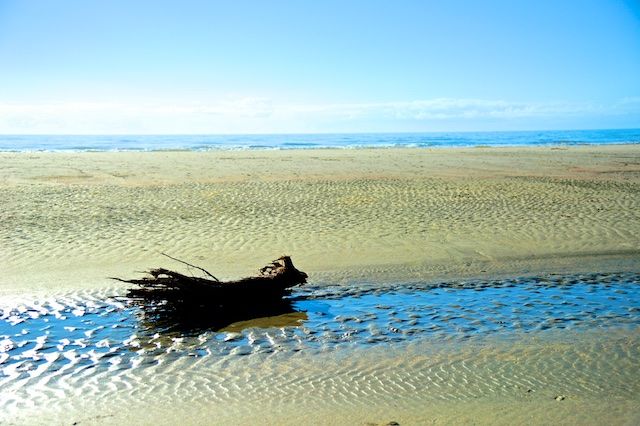 It seems like everyday we spend some time walking on the beach
here at Isle of Palms. A part of a tree washed up on the
beach today at low tide. Every day the beach
looks different is some way.
I guess only a photography enthusiast can find beauty in the plants
that grow on the floats that support the floating dock in the
marina here at Isle of Palms. Note how the upper level
of plant life that gets the most sun is green
while lower levels change to red,
orange, and yellow.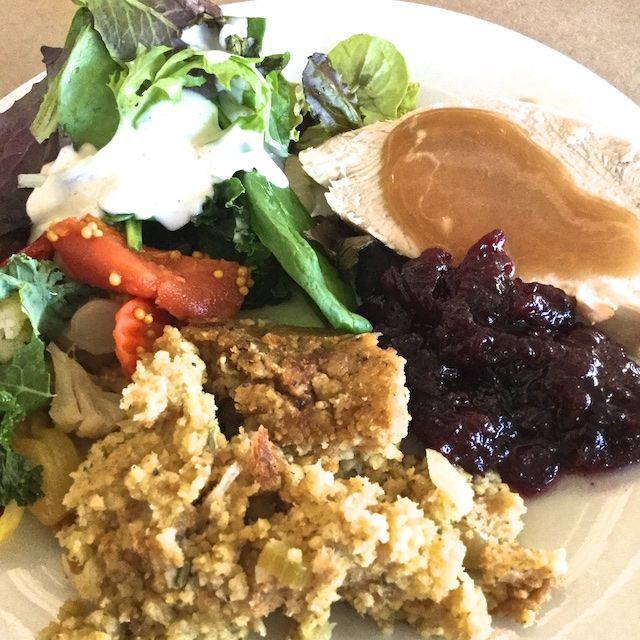 This is a photograph of our Thanksgiving dinner
at the Morgan Creek Grill in the
Isle of Palms Marina.
Thanksgiving day ends with a
very beautiful sunset.
We wish all our friends and family back home have a happy Thanksgiving!
November 25
After picking up our rental car for the weekend, we had pizza for lunch at Grimaldi's in Mount Pleasant, which has become one of our favorite restaurants in the area.
Then, we headed north on Route 17 (about 12 miles) to the Center For Birds of Prey in Awendaw SC. We purchased tickets on line for the 2 PM tour and flight exhibition. (The center is open to the public on Thursdays, Fridays, and Saturdays from 10 AM to 5 PM--flight exhibitions are at 11:30 AM and 3:00 PM.)
A swallowtail kite greeted us as we entered the
Center for Birds of Prey in Awendaw SC
This large owl was part of the flight exhibition and was landing
on a barren tree as I captured this image. It was
amazing how quietly he flew around.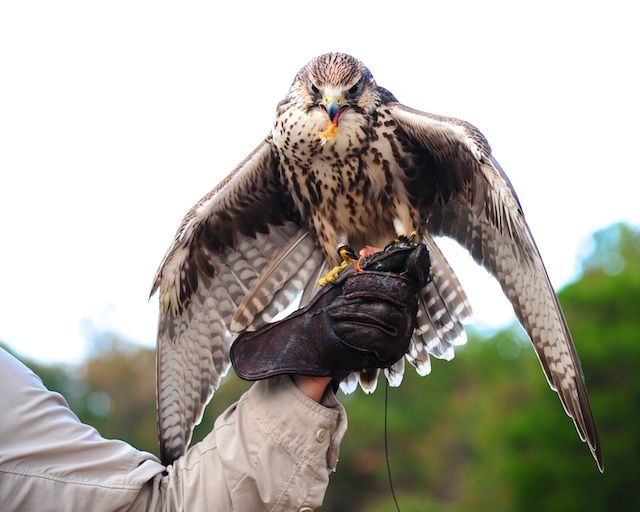 This peregrine falcon performed in the flight exhibition.
This bird was definitely built for speed!

It was a great outdoor activity and the weather cooperated--it was in the mid-70's all afternoon. The tour and flight exhibition was very educational as well as entertaining.
Thanks for following our blog!