Isle of Palms - 2016
Nov 26 and Nov 27
--Blogpost written by Bob
These are our last two days at Isle of Palms Marina. We get towed on Monday to Rockville SC where our engine will be replaced over the next four to six weeks.
November 25 (Oysters)
I previously discussed the local oysters on my blogpost for November 15 but since then I have learned more about them. I have used one of the same photographs from my earlier blogpost and added some new ones as well.
Being from Annapolis, we are accustomed to eating oysters from the Chesapeake Bay on the half shell (raw oysters served on half of their shell, usually over plate of ice).

Oysters from the Chesapeake Bay as well as the Gulf of Mexico are sub-tidal oysters--they live their entire lives under water.

However, here in South Carolina the oysters are inter-tidal, living under water at high tides and above water at low tide.
In this photograph, the local inter-tidal oysters grow on a
nearby mudbank. They seem to be found one to
three feet below the level of high tide (or
at about the point of mid-tide).
The inter-tidal oysters seem more plentiful than the sub-tidal oysters in the Chesapeake Bay but they are generally smaller. The inter-tidal oyster shells have thin wavy edges that close up completely when not under water. The thin wavy edges are very sharp and pose a danger of cuts if someone walks on them. The inter-tidal oysters grow in clusters--a hammer and chisel is sometimes needed to separate them. The inter-tidal oysters even grow on the vertical metal surfaces like metal bulkheads around the marina that straddle the normal tidal range.
In the Chesapeake Bay, it is not common for non-commercial fishermen to harvest oysters whereas here in South Carolina it is very common because they can be collected from the mud banks and marshes at low tide.
The bag limit for non-commercial fishermen is two bushels per day and a fishing license is required.
Like the Chesapeake Bay, oysters are only harvested in months that contain an "R" in the name of the month, September through April.

It is a common practice nowadays to place used oyster shells in places where oysters are likely to grow.

New oysters will attach themselves to the used oyster shells, promoting the growth of the oyster beds.
This beam is attached to the metal bulkheads in the marina
and it is positioned about 2 feet below the level
of high tide. You can see all the inter-tidal
oysters growing on it.
A single (sub-tidal) oyster in the Chesapeake Bay typically sucks in and filters 50 gallons of water per day while obtaining food, according to the Chesapeake Bay Foundation.
Since inter-tidal oysters don't spend all day under water, they probably process less water per day.
This is an oyster roast outdoors at the Morgan Creek Grill.
There are three separate piles of oysters each
under water-soaked burlap covers.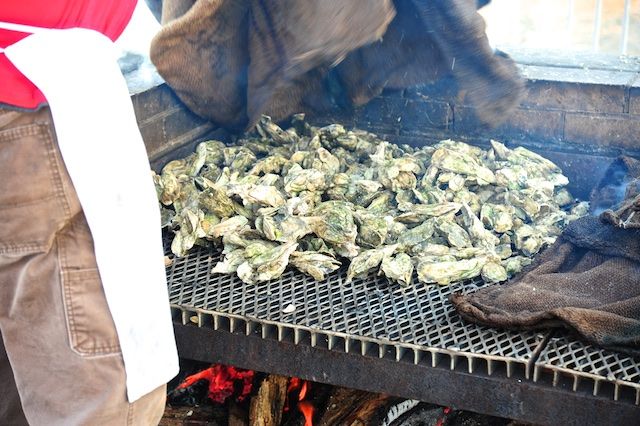 Lifting off the water-soaked burlap covers reveals the
freshly roasted oysters. When they are
done, their shells open up a bit.
In an effort to compare the taste of local oysters against Chesapeake Bay oysters, we ordered an appetizer last evening of six oysters on the half shell. Before too long the plate of oysters looked like the following photograph. We later found out that those oysters were not local oysters but were from the Gulf Of Mexico.
November 27 (Last Day!)
This is our last day at Isle of Palms Marina as we are scheduled to be towed to Rockville SC tomorrow.
We will be towed by a large rigid hull inflatable boat with two outboards and we will be connected to the tow boat with a heavy rope bridal that will connect to our forward cleats. We have scheduled this tow to be on a day (Monday) with very little other towing work and minimal boat traffic. The tow boat will call ahead for bridge openings and while undertow, our boat traffic is considered commercial (by the bridge tenders) and takes precedence over other traffic. The towboat will be in use (and billable) for approximately 8 hours, including one hour getting to us from Charleston and one hour returning to Charleston from Rockville SC. The billable rate is just under $200/hour and our insurance is covering one-half of the tow charges.
While underway, we have to steer our boat to directly follow the tow boat--this is very tedious but there are two of us to share this duty throughout the day. We expect the tow boat to have just one pilot and his day will be tedious too. We will be leaving Isle of Palms Marina sharply at 8:00 AM.
We will continue our blog through our land-locked stay at Folly Beach SC--our next blogpost (in a couple days) will be from Folly Beach after our tow has been completed.
We have rented an apartment in this beach house in Folly Beach.
Our apartment is on the lower right. It faces the ocean but
there is a seldom-used road and large sand dunes
between our apartment and the ocean.
Once our boat is in Rockville SC, I will be preparing for the re-powering by removing the removable panels around the engine and removing the hard dodger. The old engine must be lifted out (and the new engine inserted) through the companionway. We also have to completely clean out the quarter berth and remove all cushions (putting them in the v-berth temporarily) so that they don't get ruined during the work.
While it will be nice living close to the ocean for the next six weeks, we would rather be underway on our trip south.
Thanks for following our blog!