Isle of Palms to Rockville SC
--Blogpost written by Bob
We were up early to prepare for our tow to Rockville SC where our engine will be replaced.

As with any big day ahead of us, I didn't sleep very soundly.

Several times during the night I woke up to add things to our growing list of preparations.

Our list is broken down into three major categories: (1) tasks before leaving Isle of Palms, (2) packing up personal things in Rockville, and (3) boat preparations for re-powering.
The sun was just coming up over Isle of Palms as we were getting
prepared for being towed to Rockville SC. The piers on Goat
Island, behind me while taking this photo, were
decorated with colorful Christmas lights.
The Big Tow
TowBoatUS showed up about 7:45 AM on Monday, November 28.

We hooked up the rope bridle between the towboat's stern and our bow and we were easily pulled off the face dock at Isle of Palms Marina and into the ICW.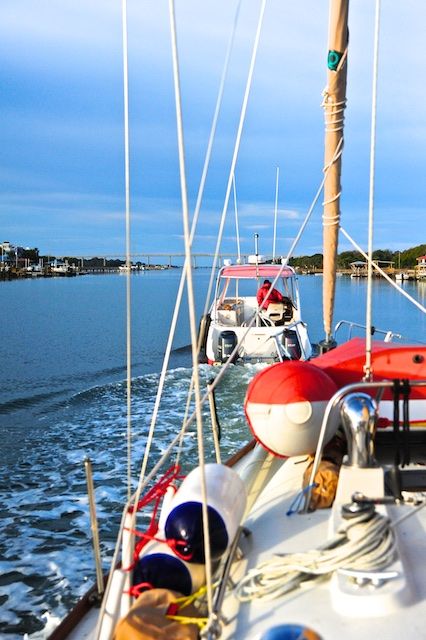 The TowBoatUS boat was a twin-hulled fiberglass boat with twin
outboard motors--this was a different boat than the one
that towed us to Isle of Palms. In this photo
we
were being towed past Sullivan;s Island.
The Ben Sawyer Swing Bridge opened for us before 9:00 AM
because
the tow is considered commercial traffic and
takes
precedence over other traffic. The Ben
Sawyer
Swing Bridge connects
Sullivan's
Island to
Mount
Pleasant.
We crossed the Charleston Harbor and came within about a mile
of Charleston's historic district shown above. By the way,
Charleston is called the "Holy City" because of the
many churches located within the city.
Below Charleston, we went thru a draw bridge that opened for us and then we went through Elliott's Cut.
Elliott's Cut is a narrow area of the ICW between two wider bodies of water--at tidal changes it is like a fast-moving river.
The strong tidal flow was against us in this cut.
The final approach to Marine Propulsions' dock was made by
hip-tying the two boats together. This allowed us
to approach the dock on our starboard side.
By 2:00 PM we arrived at Marine Propulsions in Rockville.

It was low tide but we had plenty of water depth all the way into the marina.

I have to commend Jason, the TowBoatUS captain, on getting us to Rockville safe and sound, as well as in a timely manner.
End of Day Disappointment
Since we arrived earlier than expected, we decided to pick up our rental car earlier so the we could get a jump on moving our personal things from our sailboat to our rented beachfront apartment in Folly Beach.
However when we called about an early pick up, Enterprise Car Rental advised us that they could not pick us up in Rockville because we were more than seven miles from their location.

Of course, there are no such stipulations on their website where we reserved the car.

I questioned "We are renting a car for six weeks and you can't drive 18 miles to pick us up?"

I explained that we are from out of town and there are no cabs in Rockville.

I was given the reason for no pick up as being some insurance restriction (increased risk to customer over 7 miles away) and then some sort of "we don't have the manpower" reason.

The Enterprise desk manager then asked me if I wanted to cancel my reservation (like he could care less about our business).
Eventually we got a ride from one of the boatyard workers who passed by the Enterprise location on his way home from work--we got there 30 minutes before their 6:00 PM closing time.

When we picked up the rental car, there were at least eight rental agents in the office--they could have easily spared one of them to pick us up.

In my opinion this was simply poor customer service from a bunch of college-age kids with no understanding of a customer-focused business.
It was sad that our very long, but successful, day ended on such a sour note from a company with whom we have done a lot of business recently.
Thanks for following our blog!