Folly Beach - 2016
Dec 26 thru Dec 29
--Blogpost written by Bob
As you may recall we are still in Folly Beach SC awaiting our sailboat's re-powering. We think we are getting close though--the new engine is in place but we are waiting for a resolution on the transmission. The boat yard is closed for the holiday week.
December 26
Early this morning I sent an email to Anthony Black of Marine Propulsions about the brand new ZF/Hurth transmission I found on-line that matches the gear ratios of our old transmission (2.1 to 1). I really hope this solves our transmission dilemma.
The above piece of machinery is a brand new
ZF 15MIV 2.1:1 V-drive transmission.
In doing my research on a new transmission, I ran into a manual for the old transmission (which I never had) and the manual for the new ZF transmission.

I learned a few interesting things I didn't know previously:
(1) To measure the fluid level, the dipstick should NOT be threaded into the casing but instead merely sitting on top of the threaded casing.

(This results in the correct fluid level being about 3/8-inch higher than I've been using.)
The dipstick should NOT be screwed into the transmission
casing to make fluid level measurements.
(2) There is actually a drain plug on the lower side of the transmission!

(This means the old fluid doesn't have to be pumped out through the dipstick.)
Part #20 on the lower right corner of this exploded parts
diagram of the transmission is a drain plug
that I didn't know existed.
(3) On a new transmission the fluid should be changed after the first 25 hours of operation.

After the initial 25 hours of operation, the fluid should be changed at least once every year. (After the transmission was rebuilt in 2014, I did not change the transmission fluid after the first 25 hours of operation, nor did I change the transmission fluid annually.)
It was overcast and rainy all day.
It was a good day for reading and watching college football games on TV.
Since my alma mater (Penn State) is in the Big Ten Conference, I'm rooting for all the Big Ten teams that are playing in bowl games throughout the holidays, all ten of them.
(There are currently 14 teams in the Big Ten Conference.
Generally speaking, to be invited to play in a bowl game, a team has to win 50% of their games during the regular season.)
December 27
It is overcast again today--it's kinda gloomy outside but relatively warm (about 65 degrees F).
Just to escape the "cooped up" feeling I've had from being inside the last couple days, I went out for lunch at Woody's Pizza.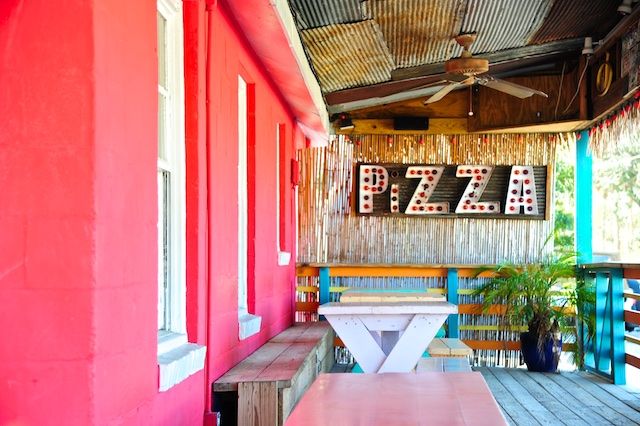 I went out for lunch today at Woody's Pizza along
Center
Street in downtown Folly Beach. One of the
unusual
things about this restaurant is the
container
of
honey on each table. If you
are
so inclined you
can
put it on
the
pizza crust before you eat it.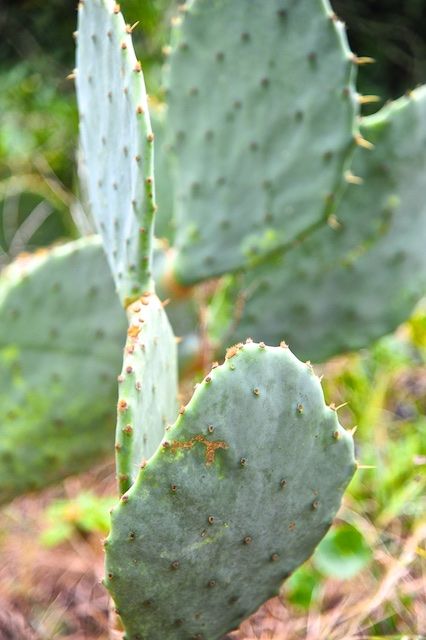 A cactus that grows in the sand along West Arctic
Avenue on the inland side of the dunes is
about 5 feet in diameter and 3 feet high.
Some of the many different types of plants that
grow on the sand dunes in South Carolina.
December 28
The temperature remains in the mid-60's even though the skies are still overcast.

This morning, I did some house cleaning and some grocery shopping.

Among other more mundane necessities, I purchased some champagne for New Year's Eve and pork and sauerkraut for New Year's Day.

Pork and sauerkraut is a traditional German New Year's Day meal--my ancestry is German-French.

Usually, my culinary tastes are more aligned with the French side of my ancestry except for New Year's Day tradition.

Actually, this is one of the few traditions that I have maintained from the rural area of southeastern Pennsylvania where I grew up.
"Eating
sauerkraut on New Year's Eve is a long-standing tradition in Germany. It is believed that eating sauerkraut will bring blessings and wealth for the new year. Before the meal, those seated at the table wish each other as much goodness and money as the number of shreds of
cabbage in the pot of Sauerkraut. The pig has long been a symbol for good luck and well-being. Because of this, many people believe that eating a meal with pork will bring luck in the coming new year."
Two shrimp boats were docked at Crosby's Seafood
Company along Folly Road. The tide was
low when this photograph was taken.
December 29
Anthony Black of Marine Propulsions got back to me today by email and agreed that the transmission I located online is a match! So, I ordered it today and it is scheduled to be delivered on January 9. It is coming all the way across the U.S. from Washington. If it arrives on schedule we will be able to get underway on our trip south by January 13 (a Friday no less!). The new transmission cost us under $3,200 but shipping is free and there is no state sales tax.
Captain Jack is sitting on the coffee table in the living room
of our small oceanfront apartment. You can
tell that he misses Maggie!
Maggie comes home tomorrow evening!
Thanks for following our blog!